Uniform​
Newcomb Secondary College students wear the correct College uniform with pride and look terrific – we thank parents for supporting our uniform policy. Teachers and the Student Support teams provide constant reminders of our expectation that all students will be in full and correct College uniform.
Students are required to get a uniform tracker when they do not have correct items of uniform and parents will be contacted when students are persistently out of uniform. If your child does not have an item of uniform, please provide a signed note of explanation - this will enable them to get a uniform tracker for the day.

PSW Geelong is our uniform supplier. Please contact PSW for uniform availability.
PSW Geelong, 164 Malop Street, Geelong.
Phone (03) 9768 0383


Summer dress is a green, blue and white check
Tailored navy blue pants or dress shorts
Winter skirt is a bottle green and navy, wash and wear, with three box pleats front and back. A longer skirt is available on request.
White knee length or crew socks with summer dress, shorts or skirt
Navy blue stockings or tights can be worn with the winter skirt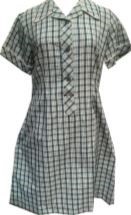 Dark Grey shorts or long pants
White knee length or crew socks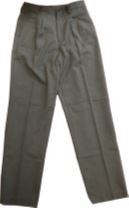 White collared, button up, straight edge school shirts to be worn with shorts, pants and the winter skirt.
Navy Blue Wool blend jumper with College logo, and bottle green and white stripes on the neck band.
Navy soft shell jacket with College logo (bottle green, navy and white)
Plain white singlets, short or long sleeve white T-shirts may be worn under the white school shirt.
Black polishable leather or leather look shoes - with laces or buckle. Black skate style shoes may be worn if they are all black, including the laces, with no coloured markings. Slip-on, canvas or ballet style shoes will not be accepted.
Sports Uniform
Navy and Bottle Green micro fibre polo shirt with College Logo and navy micro fibre shorts
Navy blue cotton tapered track pants or Navy blue micro fibre track pants with College logo