Program for Students with Disabilities​
Program for Students with Disabilities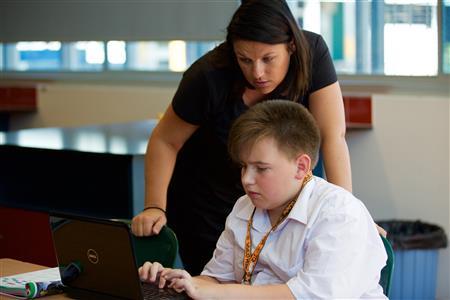 "At Newcomb Secondary College it is assumed that every student participates in the established curriculum and is offered an individual program only when the established curriculum cannot meet a student's learning goals. This means an inclusive approach to PSD students."
The DET is committed to improving the learning outcomes of all students, by acknowledging and catering for their diverse learning needs. A key element of this commitment is an emphasis on improving the learning outcomes for students with disabilities and additional learning needs, including strategies that ensure inclusive practices are in place in schools. With over 540,000 students in nearly 1,600 government schools, the diversity of the student population is recognised and celebrated. The Department is committed to delivering an inclusive education system that ensures all students have access to a quality education to meet their diverse needs. A vital component of this commitment is the Program for Students with Disabilities (PSD). This program provides a range of supports and initiatives to assist government school students with disabilities.
Objectives of the Program for Students with Disabilities
The Program for Students with Disabilities aims to maximise student potential growth in education and learning, and ensure that students with disabilities are valued and participate in all aspects of school life, consistent with optimal and relevant goals and aspirations. There are three specific objectives which together will achieve this goal for the Program for Students with Disabilities:
Student learning – Support and improve the learning of students
Student engagement and wellbeing – Support the access and participation of students in an inclusive schooling system
Student pathways and transitions – Support transitions for students, into, through and post school
What is the Program for Students with Disabilities?
The Program for Students with Disabilities is a targeted supplementary funding program for Victorian government schools. It provides resources to schools to support the provision of school-based educational programs for a defined population of students with disabilities, with moderate to high needs for eligible students.
The disabilities standards can be found at www.education.gov.au/disability-standards-education
Who is eligible for the Program?
Victorian government school students with a moderate to severe disability who meet the eligibility criteria for one of seven categories are eligible for the Program for Students with Disabilities. Eligibility criteria are developed from guidelines set by the internationally recognised World Health Organisation (Statistics show that appox 16% of students will experience learning difficulties and 3 – 4 % of students with a learning disability) and are designed to identify that group of students with moderate to severe disabilities.
What are the categories?
Physical disability
Visual impairment
Severe behaviour disorder
Hearing impairment
Intellectual disability
Autism Spectrum Disorder
Severe language disorder with critical educational needs