Issue 32, 2021
19th October, 2021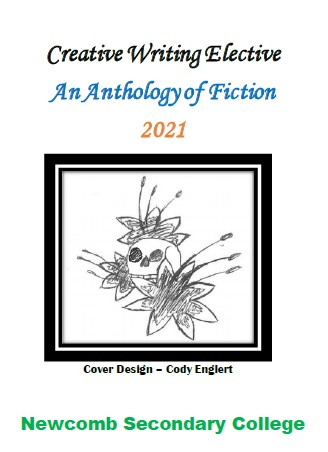 Year 9 student's publication.
Here are just a few of the exercises undertaken and added into their "Anthology of Fiction"
30 Word Stories
You must include SCRUNCH.
You must write 30 words exactly.
You must write a story/scene.
She had a habit to scrunch her brows in these situations, as if it may help her concentrate more. With a single motion, she threw the knife, hitting the target.
Kiri
Abby was about to go on stage for her dance concert but she heard a scrunch noise she wanted to know where it was coming from so she looked around.
Navarta
She scrunched the paper in a tight fist and aggressively throw the paper at the wall. She worked so hard on her test. How did she get a low score?
Emily
The papers fell out of my hands and spread out on the floor below. Scrunch, the sound of people passing by stepping all over my life long work.
Trey
Scrunch barked up at the cheese his owner was holding in front of him. His tail wagged and his ears perked up. He always looked forward to his daily treat.
Hailee
A man boards the plane with his burger king crown and his red bandana hoping it's going to be a good flight, he sits down in his assigned seat. Then he gets kneed in the stomach, his face scrunched up.
Cameron
Sitting under the tree in autumn all are a bright orange. There's a pile of leaves that fell into my lap from the tree. I picked them up and scrunched them into little pieces.
Georgia
I walked across the mess on the floor to the filing cabinet that had fallen over. The papers made a scrunch noise as I made my way towards the cabinet.
Lachlan
You must include ILLUMINATED.
You must write 30 words exactly.
You must write a story/scene.
Dark clouds began to form above the house and then came the thunder. There was a flash of lightning and the entire house was illuminated with a bright white light.
Lachlan
The science project was to make a solar system everyone had to do it so mine had to stand out. I won the first prize since my solar system was illuminated.
Cody
It was a dark and stormy night. Jack was stuck in the shed. It was dark. 'L!' he said. 'There are some lights we can illuminate the shed with.'
Emily
The room was pitch black, a darkness with strange qualities to it. It was as if it was trying to smother her. She lit the candle to illuminate the space.
Kiri
CONGRATULATIONS TO ALL CONTRIBUTORS
The back cover as the List Image for this article was created by Kiri McLean