Issue 27, 2021
31st August, 2021


A Message From Our Students
Experience With Remote Learning

Students who are children of essential workers or deemed vulnerable are able to apply to attend on site supervised schooling.
Whilst they still engage in their school work remotely, they do so from the LRC with staff overseeing them.

Sienna's Experience:
Remote learning has been hard but good at the same time. All my teachers and helpers have been there for me and have helped me though all of remote learning. You can email them and they will always be there to help you.
For me I have been lucky because I can go to school and see some other students and some teachers on site, so that's good!
I enjoy going onsite because it's so much easier than at home. At home I get distracted and I don't enjoy it. At school I get all of my work done; it gets me out of my house and I'm way happier being here at school.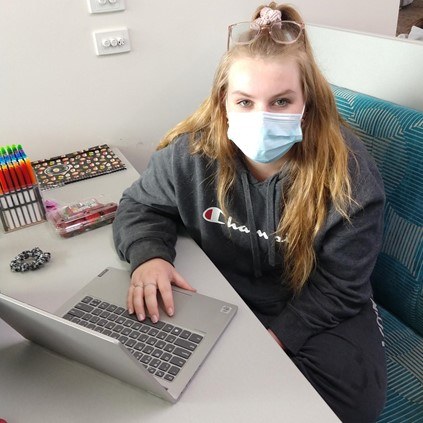 Lincoln's Experience:
Over the course of my senior years here at Newcomb Secondary College, and for the rest of the world, I have endured the effects of the coronavirus in my everyday life, and more specifically on my education.
We have been in and out of lockdowns and remote learning, swapping classrooms for zoom calls and the school canteen for the pantry and fridge in our kitchens (possibly Uber eats as well!)
No doubt this period has proven extremely challenging for some, whilst others have well and truly thrived in this modern environment of learning.
I believe no matter where you fall on that spectrum, whether you love or hate learning from home, I think we can all stand to benefit from remaining connected with our friends, families and teachers as this will only go to benefit everyone; and I would implore us all to remember that we are all on the same team and that we all work together as a school, a community and ultimately as Australians.
We will persevere and get through this!!