Issue 26, 2021
24th August, 2021


Year 7-11 Parent/Guardian, Teacher and Student Conferences - Postponed

In light of the Regional lockdown announcement on Saturday 21st August, and the ensuing move back into Remote and Flexible Learning, we will be postponing our formal Parent Teacher Student Conferences (originally planned for the 26th August).
Our staff will continue reaching out to the school community over coming days, to check in with students and offer feedback, support and guidance. We will also communicate with you again once the alternative date for the conferences has been identified.
Thank you, in particular, to those of you who had proactively booked sessions for the conferences.
Please reach out to us if any support or further clarification is needed, and stay tuned for confirmation of the suggested date for this postponed event.

COVID-19 - Update for Onsite Attendance
Given the transmission of COVID-19 amongst young people over recent weeks, the Department of Education and Training (DET) is strengthening the conditions governing students attending school onsite.

The two key categories for eligibility to attend onsite are A) children who cannot be supervised at home due to parents being authorised essential workers, and B) children who are deemed as experiencing vulnerability.

For more information on the process of applying for authorised essential worker permits, please visit the Government Coronavirus Website.
Here is an updated application for on-site attendance form on-site-attendance-form T3 2021

Thursdays – Video Conferencing

Similar to our experiences in Remote and Flexible Learning across 2020, we will not be running virtual classes and video conferences on Thursdays. The blocking structures on a Thursday mean that most teachers and students have 5-6 single periods of shortened class time.
To reduce the pressure on our staff and students, and to create a more manageable workload, Thursdays will be used as a chance for students to focus on independently working through their assignments and catching up on any missed coursework.
In some cases, individual classes will continue to operate as normal (this information will be shared with students ahead of time). But in most cases, teachers will not be hosting video conferences on Thursdays, and will instead support students to work through ongoing learning activities and revision.

The purpose for this change is to alleviate student stress levels, and to permit a full day each week for the consolidation of their learning progress. Teachers will still remain contactable on Thursdays to support students individually, wherever assistance is needed, and will be proactively reaching out to their students whenever possible.
Scott McLeod, Acting Principal
James Murphy, Assistant Principal
Jeremy Sinclair, Acting Assistant Principal
FULLY ACCREDITED BARISTAS

Just wanting to share the wonderful news that these Year 9 student's have now completed the practical and online component to become fully accredited Barista's. Great work Eloise, Phoebe, Dannika and Grace!
Thank you to Chiara for organising the Barista bus to come to our school and support this wonderful program. These girls will now be able to move forward into part time jobs and even further past school.
CONGRATULATIONS!
SCIENCE WEEK

A busy week of activities took place during Science Week.
Students were involved in science quizzes, crime scene investigations an exploding watermelon, an anti-smashing egg challenge and a science meets food demo to make ice cream
CRIME SCENE

Budding forensic scientists took part in a mock crime scene in the Library. Will they solve the crime? The S Holmes brigade of Seriously Smart Sleuths solved the crime, by using deduction, evidence and elimination to capture Mr Baker of Bad Guy Street and recovered the stolen loot.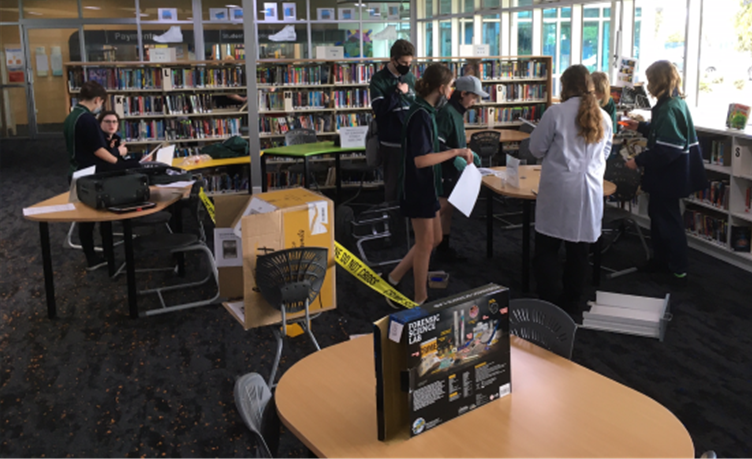 BURSTING WATERMELON

It took 154 rubber bands to burst the watermelon! Congratulations to Kodi who guessed the exact amount!
Kodi also received a show bag prize for his exact guess at how many rubber bands it takes to explode a watermelon, 146.
This activity was was full of suspense as students placed rubber bands onto a bulging watermelon that was ready to burst at any time. This was followed by an exciting icky explosion that covered students from head to foot in the red flesh and juice of the melon.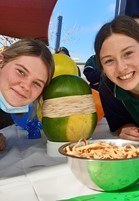 ANTI SMASHING EGG CHALLENGE
Using limited resources students were required to construct a system that protects an egg from breaking when dropped from a height of 3 metres.

MAKING ICE CREAM

Students also enjoyed the science meets food show to make liquid nitrogen ice-cream. Students were then able to enjoy the yummy fusion of knowledge by consuming the ice cream made at a steamy -178 degrees celsius.
Tips for a Healthy Lockdown
Tips for a Healthy Lockdown
Considerations for a Healthy Lockdown
Apply Self-Care practices

Take a moment to do a self-audit- how are you?
Respect warning signs & action supports
Keep a diary

Stay connected- to family, friends, colleagues, clubs, work
Put challenges into perspective
Focus on positives
Ensure you have a quality life balance

Own time, family, friends, work, hobbies

Take opportunities

Go for a walk
Take regular breaks
Read that book you've been meaning to start/finish
Get out in nature- even if just the garden tidy-up, plant something or simply to eat lunch
Reach out and connect with that long-lost friend, local or abroad
Do that interest of yours that has been sitting on the backburner for a while
Do some home cooking
Play music during the day
Tell a joke/read a joke/watch a comedy
Set yourself a small and achievable goal, daily or other.

Maintain/ Establish good habits

Consistent sleep patterns- wake up/go to bed times
Look to maintain simple but important routines
Eat well
Set healthy work routines- block times out for non-work activities (especially post 5pm)

Respect screen time durations- computer/phone/tv etc.
Apply the KISS principle- less is more/quality not quantity
Order of Priorities- yourself, your family, then your work
We have an important role to play in the community, to model healthy practices in times of challenge. How we carry & conduct ourselves is, in itself, is a lesson to our students.
Supports are there for you- just reach out. 😊
Tips for Parents and Carers
Tips for Parents and Carers
Dear Parents and Carers,
In the turbulence of lockdown 7.0 we are focussing on self-care. The needs of your family and children come before all other needs.

Please see the following to assist you in supporting your young people and please reach out by phone or email to any of the staff at Newcomb Secondary College if you are worried or have concerns.
We might be in lockdown but we are still able to connect .
Take care, in health.
Your Wellbeing team.
Tips for parents and carers during lockdown – Vikki Ryall, Executive Director of Clinical Practice - YouTube

Senior Years Update
The Senior Years has been a hype of activity in recent weeks. From assessments to chocolate cakes to motivational quotes to course counselling. We are all still working hard to make the most of what 2021 has left to offer.

Special mention to Mrs Boyanton and Mr Horsted who have completed a mountain of work towards our 2022 Course Counselling (aka 'Coursemas'). We had Room B10 a flurry of excitement as students discussed and chose subjects for the VCAL and VCE studies, along with VET courses. Most were joined by parents, hooking in remotely. This proves that not even significant physical distancing barriers can get Coursemas down!
The Year 12 English students have completed their highly anticipated oral presentation assessments. They were nervously pacing around the Language Centre, waiting for their chance to present to the panel of expert assessors. This included Mr Drummond, Ms Teakle, Ms Allinson, Mr Houlihan, Ms Hunt and Ms Wray. The students did an excellent job and there were some amazing topics that blew the assessors away.
Some hard working VCAL students have begun completing their coursework and starting full time work. This is a fantastic outcome and we can't wait to see the amazing achievements these students go onto do in their different careers and pathways.
In the coming weeks, we are looking forward to finalising course counselling and placing students into their desired subjects for 2023. Many Unit 2 and 4 subjects will soon finish up the content delivery and start working on study and revision for end of year exams. Students will be sitting the GAT on Thursday 9th September – a great opportunity for students to get some exam practice in before the end of the year.
Ebony Dedini
Senior Years Leader