Issue 02, 2021
9th February, 2021


2020 Awards
Whilst Newcomb Secondary College may not have been able to run an Awards Ceremony in 2020, we had all the more reason to give out awards to those who demonstrated excellence in the face of adversity in a variety of ways.
Congratulations To Ruby Bell College DUX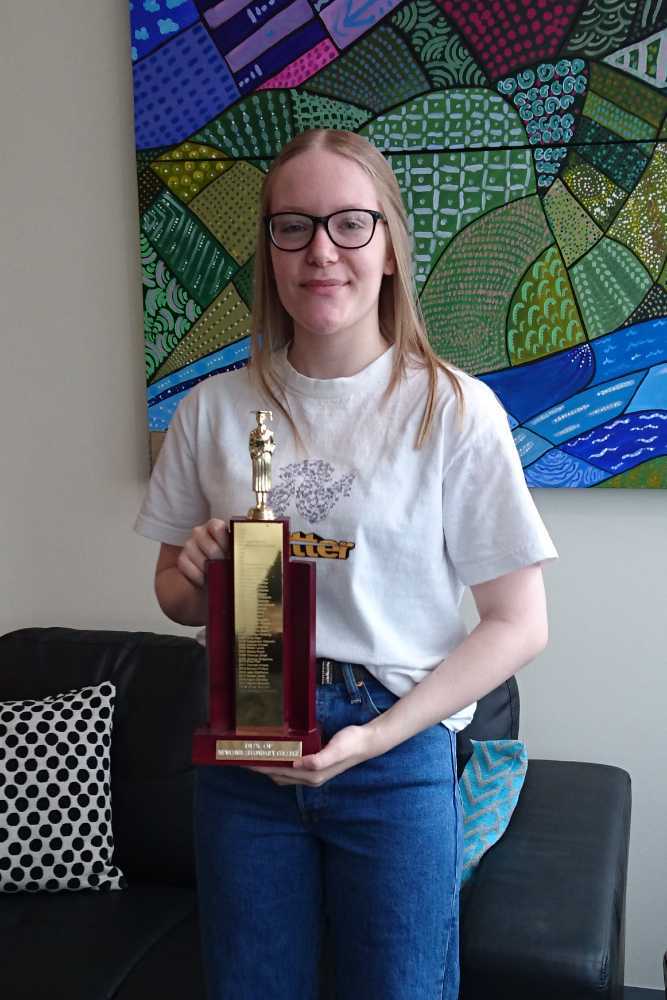 Below is a list of those who received awards at the conclusion of the 2020 academic year.
Any student receiving an award who has not yet picked it up from the front office should do so at their soonest convenience.
| | |
| --- | --- |
| Jai Pfarrer-Wells | Outstanding Achievement |
| Cody Emmett | Outstanding Effort |
| Kiri McLean | Outstanding Achievement |
| Hayden Butler | Outstanding Effort |
| Zakk Osborne | Outstanding Achievement |
| Jake Sherry | Outstanding Effort and Achievement |
| Ellisha Gleeson | Outstanding Effort and Achievement |
| Tyron Shandley | Outstanding Effort and Achievement |
| Daina Graham | Outstanding Effort and Achievement |
| Sienna Campbell | Achievement in Quick Smart |
| Milly Creswell | Outstanding Literacy Growth |
| Travis Bower | Outstanding Numeracy Growth |
| Scarlett Johannesen | Enthusiasm in ASPIRE |
| Wren Collins | Enthusiasm in ASPIRE |
| Nathan Evans | Visual Arts Potential |
| Kira Pearce | Visual Arts Potential |
| Lachlan Welch | Visual Arts Potential |
| Zakk Osborne | Excellence in LOTE |
| Rebecca Warren | Excellence in LOTE |
| Cooper Rowbottom | Excellence in LOTE |
| Bella Binks | Excellence in LOTE |
| Grace Thomas | Excellence in LOTE |
| Hannah Dickinson | Dedication to Applied Learning |
| Sarah Giesen-White | Dedication to Applied Learning |
| Kyle Mitchell | Dedication to Applied Learning |
| Jayda McPhee | VCE achievement in Science |
| Daina Graham | VCE achievement in Maths |
| Lucy Cummings | VCE achievement in Maths |
| Ruby Bell | VCE achievement in Technology |
| Tayla Ambrus | VCE achievement in Art |
| Bianca Merlino | VCE achievement in SOSE |
| Chloe Varcoe | VCE achievement in HHD/PE |
| Ruby Bell | VCE achievement in English |
| Hunter Blackwell | VET Achievement |
| Imogen Caldwell | SBAT Achievement |
| Ethan Mitchell | First Year P-Tech Achievement |
| Tyron Shandley | Second Year P-Tech Achievement |
| Taneal Carroll | Applied Hospitality |
| Chloe Varcoe | Applied Hospitality |
| Remy O'Hara | Service to SRC |
| Jordan Quarrell | Service to SRC |
| Ruby-Rose Braddock | Kiwanis Support |
| Hailee Nollen | Kiwanis Support |
| Ayden Ferry | Kiwanis Support |
| Kasey Fraser | Kiwanis Support |
| Emma Horan | Kiwanis Scholarship |
| Blake Fairfield | Kwong Lee Dow Scholarship |
| Tarni Muir | Studies in STEM |
| Presley Johannesen | ADF Long Tan Year 10 |
| Michael Case | ADF Long Tan Year 12 |
| Caitlyn Wilson | ADF Stem award Year 10 |
| Amber Kenyon | ADF Stem award Year 12 |
| Jordan Quarrell | School Captain 2020 |
| Bianca Merlino | School Captain 2020 |
| Kaysha Pitman | Deputy Captain 2020 |
| Emma Riordon | Deputy Captain 2020 |
| Bianca Grima | Year 12 Excellence |
| Charlotte Ludlow | Year 12 Excellence |
| Kyle Mitchell | Richard Marles Scholarship |
| Luka Binks | Christine Couzens Scholarship |
| Tarni Muir | Glover Family Scholarship |
| Hannah Moyle | Year 12 Excellence |
| Ruby Bell | College Dux |