Issue 40, 2022
13th December, 2022


From the Principal Team
By Scott McLeod
From the Principal Team
By Scott McLeod
__________________________________________________________________________________________
Orientation Program - Year 7 2023
It was an absolute pleasure to welcome our excited, and a little nervous Year 7's for 2023 into Newcomb Secondary College on Tuesday. We can all remember our 1st day at Secondary school, a significant moment in any persons life. Yes, it is a time which leaves any young person a little apprehensive, but as soon as you meet your teachers, orientate yourself around the school and begin a class, it is a time you look back at very fondly. The lifelong friendships that come to the fore, the new experiences you enjoy, the many opportunities and growth that is undertaken ensures that it is a time in ones life that will never be the same ever again. The amount of students who in later life come to me and say, 'wish I was still at school', would astound anybody willing to listen. It was great to hear the excitement at the end of the day when parents and carers came to collect their Year 7 student, a sign of a successful experience at Newcomb Secondary College for their first day. We wish our new Year 7 students, and all our Newcomb SC students for that matter, a happy and safe holidays and we cant wait to see them all again for the start of a new and exciting Academic year in 2023.


End of Semester Reports
You will notice over the course of 2022, that the presentation of students reports have evolved. This is part of a new and exciting process undertaken by the Assessment & Reporting committee here at Newcomb SC. The Assessment & Reporting Committee is a committee aimed at providing our school community with a report that is more informative, displays growth more easily and offers graphical presentations that can easily highlight trends over time.
Each end of semester report will continue to feature the Victorian Curriculum standards and Capabilities.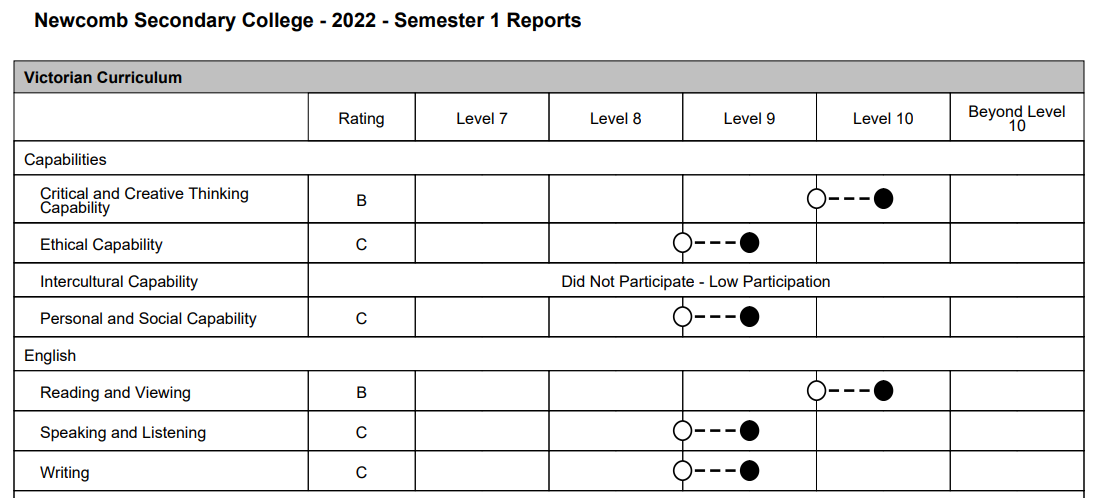 Teachers use the Newcomb SC Grading scheme, a scheme with language descriptors tailored specifically for our school when assessing students Learning Tasks.

Teachers also provide information on a student's learning dispositions, traits and habits, via the Newcomb SC Positive Learning Qualities (PLQ's)- the PLQ's capture the school learning areas of 'Learning, Respect & Working Together'. An example of the PLQ's can be seen below- note the bars on the graph show the last four entries (one each Term) as a trend over time.

Students have also been provided with the opportunity for Voice and Agency in their learning and this is captured on the reports as their Focus Area and Reflection on the Home Group Reports. The Goals that students elect to work towards come from the Positive Futures Framework (PFF).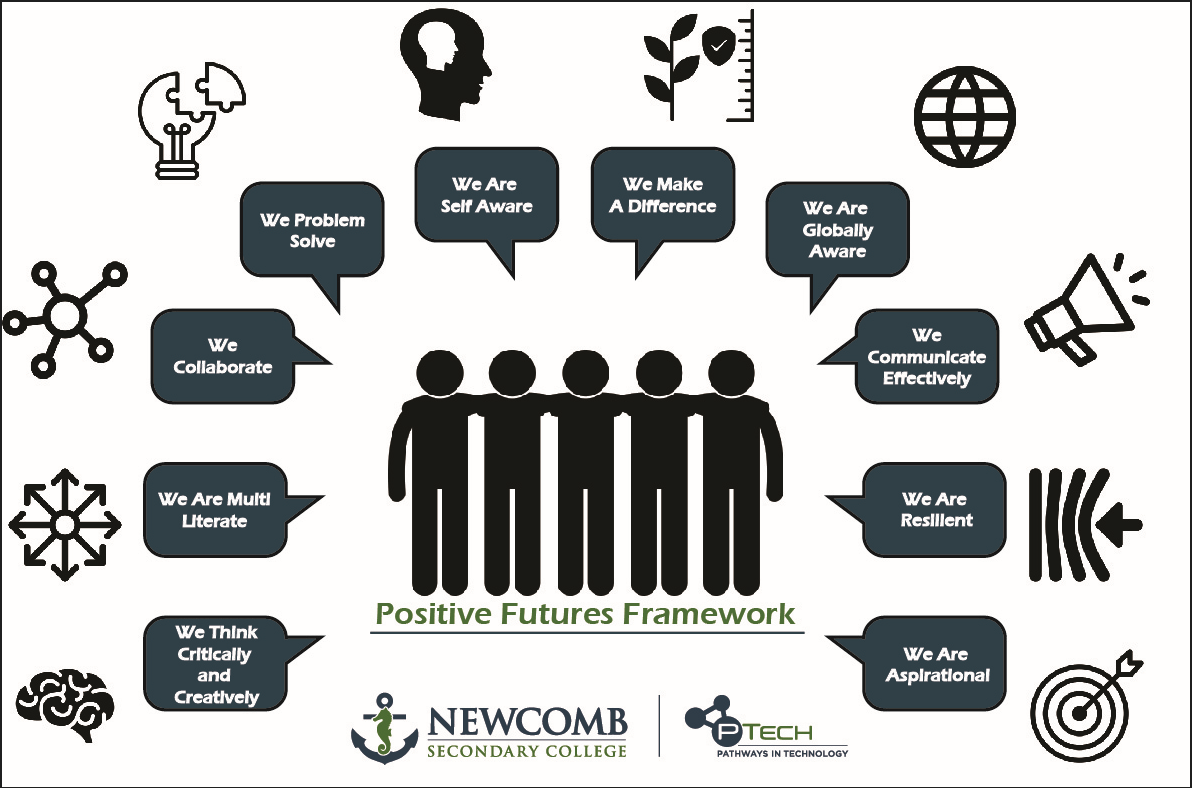 Finally, it is important to note that a school experience goes beyond the standard curriculum delivery, thus, we have chosen to highlight each students involvement and participation in extra-curricular learning opportunities such as excursions, incursions, camps, leadership activities, and sport activities.

Merry Christmas and a Happy New Year
Merry Christmas and a Happy New Year
We wish all our community the very best for the holiday season.
End of Year 2022 Programs
By Jeremy Sinclair
End of Year 2022 Programs
By Jeremy Sinclair
__________________________________________________________________________________________
End of Year 2022 Programs
Students and teachers alike are enjoying the final 2 weeks of the 2022 school year. The activities and excursions are a welcome break from regular classes and give everyone a chance to try something different. Some students enjoyed the excursion to the Geelong Tech School the most, others enjoyed the opportunity to cook a magnificent Christmas banquet (and then eat it!) whilst still others enjoyed some quiet arts and crafts or maths games. But by far the most popular was the Adventure Park excursion. Whilst it wasn't the warmest of weather for enjoying waterslides, the sun was delightful and students had a great time enjoying all the park had to offer. Even the teachers got in on the action with Mr Unmack proclaiming himself the minigolf king with four holes. The final days of End of Year activities, give students the opportunities for some sports activities, and a chance to enrich their understanding of Newcomb Secondary College's own Positive Futures Framework!
Year 12 Graduation
A final farewell was said to the Year 12 cohort of 2022 on Wednesday 7th of December. VCE and VCAL graduates alike proudly walked across the stage to receive their certificates, a memento from the college and the handshakes of our School Principal Mr Phil Honeywell and School Council President Mr Michael Graham. Reflections for the night from Mr Honeywell and Student Leader Baillie Mayberry and NSC Alum Gab Pappalardo were well received, as were the humorous and kind introductions of student highlights by Mr Sinclair and Mrs Dedini. As usual the dinner and dessert were delicious, music got everyone on the dancefloor and the students themselves presented immaculately in their finest suits and dresses.
Awards Ceremonies
Friday 16/12/22 sees the final event of the school year for students, the awards ceremonies. Invitations were shared via Compass Email last week, with the final one's going out following the announcement of Year 12 results this week. The ceremonies are divided into 2 parts, the Junior School Assembly at 10am for Years 7-9 and the Senior School Assembly for Years 10-12 at 2pm. Awards are given out for many different achievements, from demonstrating the college's positive behaviour expectations, to literacy and numeracy growth, to sports, to music. Parents and carers have been invited to attend but are requested to RSVP to the NSC office if they wish to do so to ensure enough seats are available.
__________________________________________________________________________________________
School Uniform 2023
Please find below a link to a video showing the convenient ways to shop at PSW stores during the busy back-to-school (BTS) period. with your community
https://www.youtube.com/watch?...
2022 Bike Tour de Gippsland
By Glenn Unmack
2022 Bike Tour de Gippsland
By Glenn Unmack
__________________________________________________________________________________________
Bike Tour Highlights
"What a week we've had!"
45 of you, across 6 year levels, with very little real cycling experience amongst you.
You tackled 6 pretty decent days of riding with all sorts of weather, while sleeping in tents, and eating food you had to serve to yourselves!! ….….. but you did a great job riding, hardly complained at all (or maybe we're getting used to it!).
You enjoyed each others company the whole trip, included everyone, enjoyed and sought out our company (staff), did all the stuff we asked you to, and jumped in often to ask and offer to help….. what a highlight!
How good were the places we visited? – How good was the food? (thanks Ms Hill) …..And when we had our "situations" you were all awesome – supporting each other, showing maturity and patience, which meant we (the staff) were able to look after everyone the best way we could!!
How good was the atmosphere on tour? How good was riding into school? How about the amazing reactions of your parents when we arrived back to school?…..
For me this is why its worth going "above and beyond" to be on Bike Tour.
My dear students, you have all tackled something that is hard work, and achieved something worthwhile. Now you deserve to be proud of yourselves for that.
Families - you have 'showered' me with thanks and praise, but I know you will want to reach out and thank the awesome staff who looked after your kids on this years tour; Ms Hill, Mr Colbert, Mr Joe Lewis, Mr Bamford, Ms Bradshaw, Mr Crowther, Mr Monahan, Mr Markov, Mr McCurry and a volunteer and long time supporter of the Bike Tour, Mr Ralph 'Rocket' Wright.
Thankyou students. Thankyou families.
Kindest Regards - Glenn Unmack
Uniting Care Education Assistance Program
Uniting Care Education Assistance Program
__________________________________________________________________________________________
2023 Education Assistance Program

Uniting Care Education Assistance Program for 2022-2023 (Oct 2022 to June 30th 2023) is available to those families and students who are most vulnerable and need assistance in regard to uniforms, books and/or digital book fees.
Interviews at the Grovedale location will commence on the 18th October 2022 morning only. Interviews will then continue every Tuesday and Thursday Morning up until 15th December 2022.
Please telephone the Education Assistance Team on 4210 1100 and make an appointment time with our interviewers to see what assistance we can provide.
The office is open Monday to Friday mornings 9.30am to 12.30pm.
__________________________________________________________________________________________
Uniting Care Update
Dear Parents,
Thank you to those families who have sought assistance through the Uniting Care program for 2023.
Due to publication delays and changes to the 2023 curriculum and booklists, the following items will be available for students funded through the program to collect on the first day of Term 1 2023.
Year 7 – English Novel - How to Bee
Indonesian -Bima 1 Workbook
Year 8- English Novel -The Graveyard Book
Year 9- English Novels- A Monster Calls, The Road to Winter
Year 10- English Novels- A Simple Gift, Twelve angry Men
Year 11- VPC Nelson Foundation Maths Year 11
VCE- English Novels - Moon is Down, The Crucible
-Edrolo
-Food Studies 1 & 2
Variety Education & Technology Scholarships
Variety Education & Technology Scholarships
__________________________________________________________________________________________
2023 Educational & Technology Scholarships
Variety Scholarships are available.
This is a great opportunity for students to be supported with their personal device.
If any questions, please contact:
Rhiannon Leech or Jane Osborne on 52481400 or email rhiannon.leech@education.vic.gov.au
or jane.osborne@education.vic.gov.au
Click on the link below for more information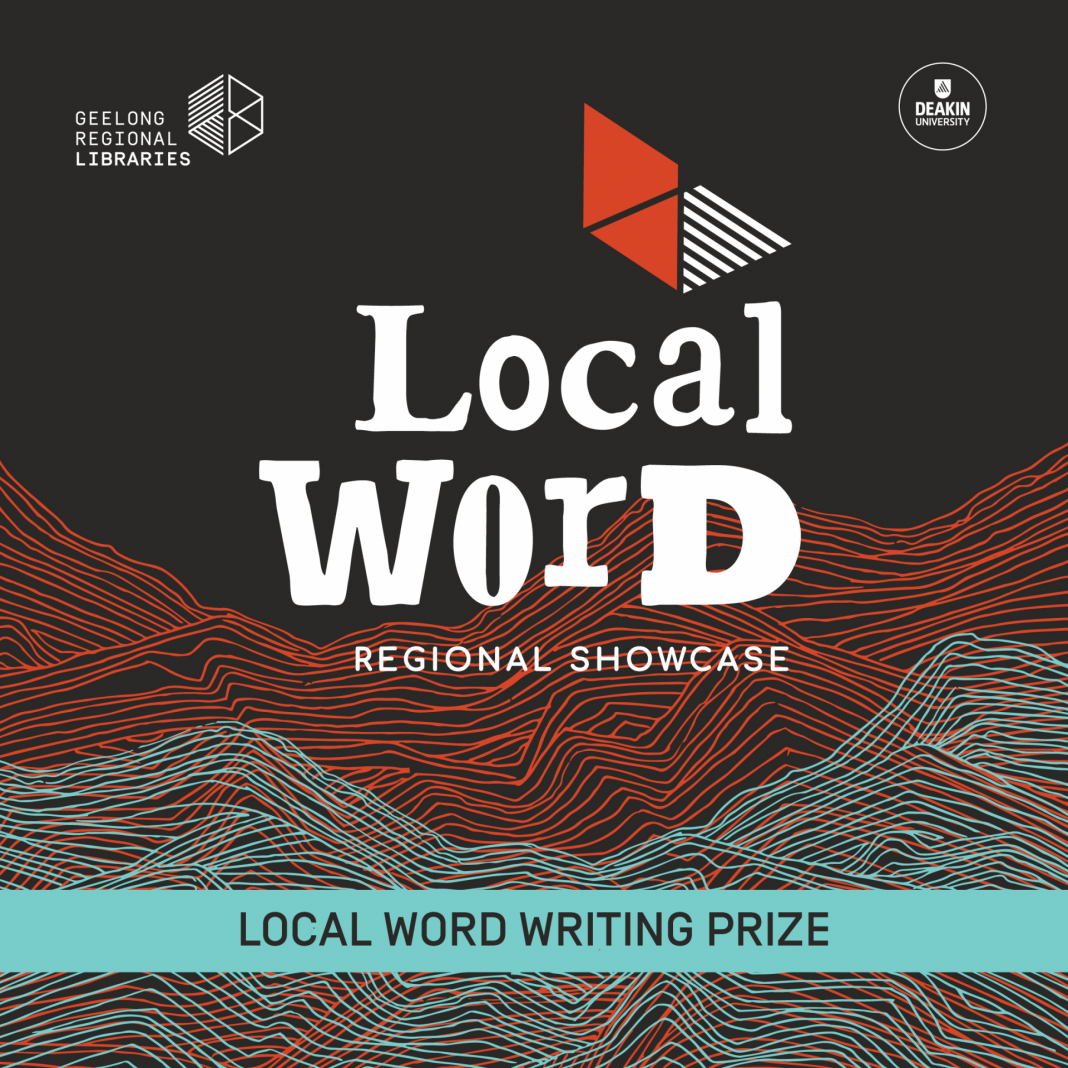 Announcing the Geelong Regional Libraries & Deakin University
Local Word Writing Prize
Calling all the writers!
Entries for the Local Word Writing Prize are now open.
Submissions of up to 3000 words are welcome from emerging and established writers in prose fiction and creative nonfiction.
Entries close at 5.00pm, Saturday 28th January, 2023.
The winner of the prize will receive:
a one-hour mentoring session with a Deakin University writing practitioner.
publication on GRLC's website and announcement in GRLC's e-newsletter
Commended writers will receive:
a cash prize of $250
publication on GRLC's website and announcement in GRLC's e-newsletter
Visit https://www.grlc.vic.gov.au/lo... for more details!
Has your child missed any school immunisations?
Catch up is free up to 19 years of age available through Barwon Health Immunisation service, see details below, or your GP.
Bookings via this link https://bit.ly/2Ie9F4E or via QR code
Immunisation Centre

Immunisation Hours

South Barwon Civic Centre

2 Colac Rd, Belmont, 3216

(enter off Reynolds Rd)- carpark in between Bowling lanes & Barwon Health .FOLLOW SIGNS

APPOINTMENT ONLY FOR ALL SESSIONS see below

Wednesday and Friday mornings - 09.00am - 12.00pm

Wednesday and Friday afternoons - 1.30pm - 4.45pm

Saturday morning - 08.30am – 12.00pm

Korayn Birralee Family Centre

146-152 Purnell road, Corio, 3214.

APPOINTMENT ONLY FOR ALL SESSIONS see below

Every Wednesday 9.45am - 11.45am

Ocean Grove – Boorai Centre, 4-50 Shell road, Ocean Grove, 3226.

APPOINTMENT ONLY FOR ALL SESSIONS see below

2nd and 4th Friday of each month 9.30am -11.45am