Issue 14, 2022
17th May, 2022


College Council
The College Council meeting will be held this Thursday evening, the 19th May.
NAPLAN
Over Weeks 3 and 4, students in Years 7 and 9 will be joining their peers from across the country in participating in the National Assessment Program for Literacy and Numeracy (NAPLAN).
Unlike previous years, this year students will complete NAPLAN in their regular class groupings and through accessing an online platform. A number of classes participated in practice NAPLAN activities in Term 1, and based on the feedback from those involved, we feel completing the tasks in this way will amount to a less overwhelming and more comfortable experience for the students overall.
NAPLAN provides individual students with a snapshot on how they are progressing with their development of core skills in literacy and numeracy, as they progress through their school years. The data gathered through this process can also provide teachers with greater insight to how they can assist the learning outcomes of their students, through the provision of individual adjustments and supports.
We will share more information about the NAPLAN processes for students, parents and carers on Compass. But please don't hesitate to contact us for any information or concerns.
As with anything, we certainly don't wish for any of our students to feel overwhelmed by the idea and experience of NAPLAN completion – we just ask that everybody embraces this challenge to their full potential, and makes the best of it.
Phil Honeywell, Principal
Scott McLeod, Assistant Principal
James Murphy, Assistant Principal
COVID UPDATE
New household contact information:
You are a household contact if you have spent more than four hours with someone who has COVID-19 inside a house, accommodation or care facility.
Your household contact period is 7 days.
You don't have to quarantine during this 7-day period if you:

test negative using a rapid antigen test on 5 days of the 7-day period (with tests spaced at least 24 hours apart)
wear a mask indoors when outside your home
do not visit hospitals or care facilities
notify your employer or education facility

If you do not follow these steps, you must quarantine for the 7-day period – and you are required to get tested on Day 1 and Day 6.
If you test positive on a rapid antigen test, you must report your result and isolate for 7 days. Visit Reporting your result page for more information.
Household contacts are also referred to as close contacts.
Rapid Antigen Testing
Testing change:
from Monday 23 May 2022, it is recommended RATs are used by students and staff when symptomatic.
It will no longer be recommended that non-symptomatic students or staff conduct RATs twice a week.
RATs are also required to be used for 5 days if a student or staff member is a close contact of a confirmed case and they are attending or working at a school.
WHAT YOU NEED TO KNOW
If your child is not experiencing COVID-19 symptoms, they can continue to attend school, but you should monitor for symptoms.
Students who show symptoms of COVID-19 cannot attend school and should get tested immediately and isolate until they receive a negative result.
Students should continue with twice-a-week rapid antigen testing on school days.
Students who have recovered from COVID-19 do not need to participate in surveillance testing for 0 days after their isolation period has ended.
For information on symptoms visit: https://www.coronavirus.vic.gov.au/symptoms-and-risks.
For more information on how to get tested visit: https://www.coronavirus.vic.gov.au/taking-test-covid-19.
If your child returns a positive result, your child has COVID-19. You must:
quarantine your child for seven days
advise the school about the positive result
Your child must stay home until their symptoms have resolved and they are well
Reporting your child's positive test
If your child was at school when they were infectious you need to report the positive case through the Student COVID-19 Test Portal or you can notify the school in writing or by phone.
You must also report your child's positive test to the Department of Health via the COVID-19 Positive Rapid Antigen Test Self-Reporting Form or call centre on 1800 675 398.
Further information for languages other than English
If you or someone you know needs assistance with translating this information, please contact the school office for details of interpreter options.
Financial support available to people affected by COVID-19:
For more information, visit:
Financial and other support for COVID-19 | Coronavirus Victoria
If you need a payment during coronavirus (COVID-19) - Getting help during coronavirus (COVID-19) - Services Australia
General advice and support
For general advice and support please call the Department of Education and Training COVID-19 hotline on 1800 338 663.
You can also contact the school:
Phone: 5248 1400
Email: Newcomb.sc@education.vic.gov.au
Advice and further resources about what to do if you test positive to COVID-19, or you have been told you are a contact, are at: Your COVID Checklist | Coronavirus Victoria, or call the 24/7 Coronavirus hotline on: 1800 675 398
Big news for P-TECH students interested in the Certificate II in Automotive………………………
Welcome to JAX Tyres & Auto
our brand new partner to the P-TECH program
JAX Tyres & Auto specialise in tyres and mechanical services including wheels, brakes and suspension servicing. They offer a full range of tyre and wheel fitment and services as well as associated accessories, steering, break and suspension servicing.
Welcome on board JAX, we are looking forward to working with you to support our students with an interest in Automotive.
I am so proud of our Year 9/10 Glass students. They have worked through the process of designing, cutting, pasting, grouting and then cleaning the glass for their individual mosaic projects with fabulous results. Go team! - Mrs Honeywell
(Please click on photos to enlarge)
____________________________________________________________________________________________
Our Year 7 GROW classes have just started a unit called Spill That Can Kill, which looks at the effects of oil and pollution within our environment. Last Wednesday students completed two experiments looking at the difference between soluble, and insoluble, substances, in fresh water and salt water. The final experiment looked at ways to separate oil from water, and whether it would be possible to use this technique to extract oil from our oceans.
____________________________________________________________________________________________
Our VCE Food Technology students have created some amazing Middle Eastern inspired cuisine!
____________________________________________________________________________________________
Zoey Davis (U13 girls athletics champion) and Emily Dunn (U14 girls athletics and swimming champion) presented with their medals at this week's year level assembly.

____________________________________________________________________________________________
In Humanities we learnt about Ancient Egypt death masks and the Afterlife.
We got to create a death mask and then we wrapped one of our classmates like a Mummy/Pharaoh then put the death mask on him.
We also learnt how the rich would do that so they would go to the afterlife and that they would kill their relatives and bring them with them so they could be in the afterlife with them. When becoming a mummy the surgeon would take out all your insides and would scrape out your brain with a spoon through your nose. Once your insides were out they would put them in canopic jars. By doing all this their bodies would be resurrected in the afterlife. - By Hamish Andrews
____________________________________________________________________________________________
Last week in Humanities after Naplan, instead of doing writing work Ms Jones let us roleplay an Ancient Egyptian burial ritual and we were mummified with Mia playing the dead pharaoh, Talydia being the death surgeon and Lillie the death surgeon's assistant. First we looked at some death masks and then we made our own. Our inspiration for the mask was Shrek. After we carefully colored in the mask with textas we circled Mias body with 4 rolls of toilet paper. That task was difficult with two people because Lillie and Talydia had to go on their knees to wrap the legs and body. After we wrapped the body it was time to lay her down, Ms Jones had to help the girls because otherwise the paper would have ripped. So Mia had to trust-fall onto the ground while the girls were holding her. Then we had to place the mask on her face. After that Talydia and Lillie grabbed some cups and scrunched it up to look like the inside were taken out of the Pharaoh. Take a photo and we were done. You think….
After Mia had broken out of the toilet paper everyone was packing up. Mia decided that it would be a good idea if everybody covered her in the toilet paper everyone was wrapped in… So in short Mia was mummified twice.
We all had lots of fun during this activity! Written by, Mia, Lillie and Talydia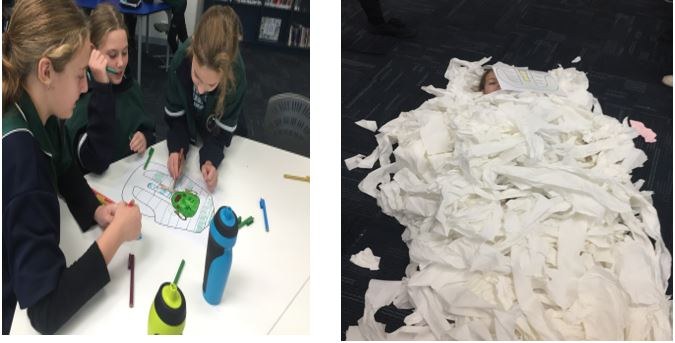 ____________________________________________________________________________________________
Shayla Maimur representing the SLAM committee by giving the year 8 students a rundown of the exciting things ahead!
On the 13th of May Newcomb Secondary College held it's own Cross Country. Students competed on Ervin Reserve Oval and completed 4 laps of the track. It was great to see so many students getting involved even with wet and cold conditions. There were some fantastic efforts from Emma Potter, Nick Maultby, Levi Falvey, Lillie Della Monica, Liam Grundell, Spencer Fairthorne and Will Fairthorne just to name a few.
A big thankyou to Mr Bamford, Mr McCurry & Mr Klingberg for assisting on the day!

Go Seahorses
Corey Bell
After School Learning Club
After School Learning Club
After School Learning Club

Needing to catch up on missed work? Wanting to get on top of your studies? Or, just wanting to stay ahead of the rest of the class? If you've answered 'yes' to any of these questions, please join us in the LRC on Tuesday afternoons and be a part of our afterschool Learning Club (3:25pm - 4:30pm).
There will be snacks and light refreshments, experienced tutors and NSC teachers to provide help wherever it's needed. Stay for just a few moments, or for the whole time – whatever is needed. Work with the tutors and teachers, or just do your own thing – the main thing is that you attend!
Students, parents and carers can contact Mr Murphy for more information on this great opportunity, made possible by our partnership with The Smith Family.
INVITATION FOR PARTICIPANTS
ONLINE ASSESSMENT OF ANXIETY DISORDERS IN AUSTRALIAN ADOLESCENTS
Is your teenager frequently nervous in social situations, overly worried about lots of little things, afraid to be away from you, or afraid of specific objects or situations (e.g., dogs, doing speeches at school)?
At Macquarie University, we are conducting an online study that includes a thorough assessment of anxiety concerns in adolescents 12 to 17 years. We are providing this service online via Telehealth and at no cost to families. Participants will also receive a $30 gift voucher as a thank-you for their time.
If you believe your teenager may be experiencing anxiety, please contact bddproject@mq.edu.au to out more about the project.