Issue 06, 2021
9th March, 2021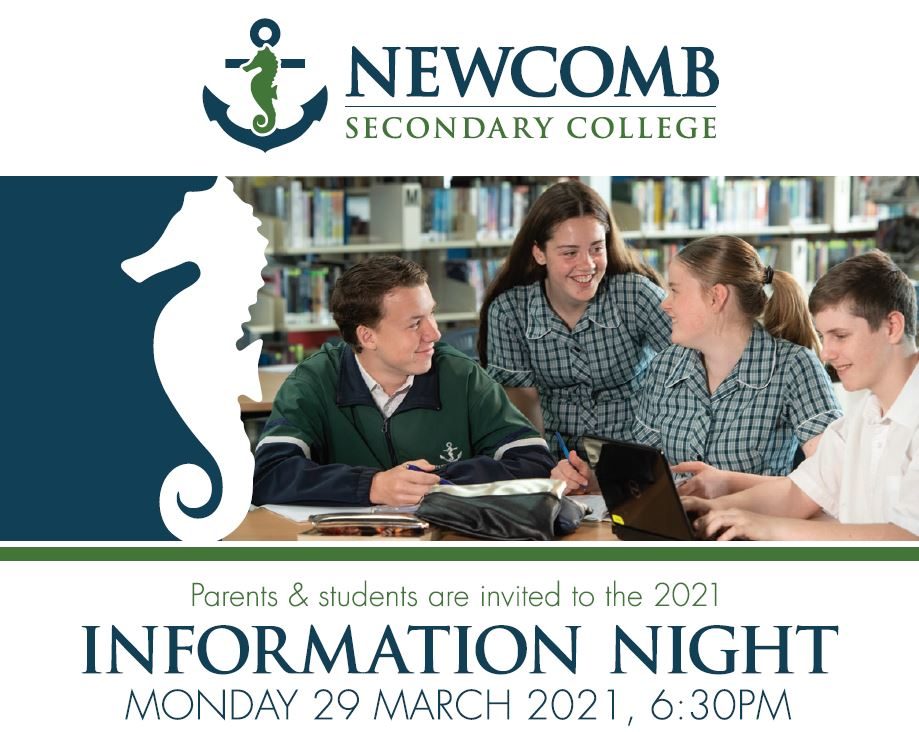 All welcome, no registration required.
Mr Phil Honeywell, Principal
Mr James Murphy, Assistant Principal
Mr Scott McLeod, Assistant Principal
House Athletics
By Mr Peter Currie
House Athletics
By Mr Peter Currie
Newcomb SC 2021 - House Athletics
The annual house athletics carnival was conducted at Landy Field on Monday 1st March. We operated under different conditions than usual, with new Covid-normal strategies to keep everyone safe.
Students relished the lovely weather and mild temperatures. House captains did a fantastic job keeping the enthusiasm high. The rumour is that Emily and Kasey from Wills gave extra inducements to the younger ones to encourage participation and it seemed to pay off. Wills house once again showed how strong they were.
There were some terrific efforts from competitors on the day, with Amelia, Scarlett and Emily from Harrison, Thomas from Drysdale house all participating in ten events each.
A big thank-you to the teachers who packed the gear on Friday night, arrived early to set the field up and stayed back late unloading everything at the end of the day.
Individual Champions
13yr Female - Emily Dunn, Harrison
13yr Male - Emerson Datson, Curlewis
14yr Female - Scarlett Johannesen, Harrison
14yr Male - Aime Nshimiyimana, Curlewis
15yr Female - Dakota Harrington, Wills
15yr Male - Bailey Thomas, Drysdale
16yr Female - Amelia Cleasby, Harrison
16yr Male - Jack Maultby, Curlewis
17yr Female - Tayla Pitman, Drysdale
17yr Male - Nathan Evans, Wills
18yr Female - Paige Bower, Wills
18yr Male - Jake Baker, Drysdale
Final House scores were:
Wills - 1,444.5
Harrison - 1,103.1
Drysdale - 1,045.3
Curlewis - 953.0
Year 7 Beach Day
By Ms Eliza Hunt
Year 7 Beach Day
By Ms Eliza Hunt
Year 7 Beach Day
This year the Year 7 beach day at Ocean Grove was run over two days. On Thursday 25th February group 71 & 72 had beautiful weather and enjoyed and overall nice day while group 73 & 74 experienced a colder day on the 4th of March.
The day was designed for our year 7 students to have fun, get to know each other a little better and try something new. The activities on offer were: Surfing, Beach Games and a BBQ lunch.
On both days we had a good swell running with plenty of push to give the students a fabulous surfing experience. Mr Amer, Mr Currie and Mr Klingberg were the expert instructors giving the kids the confidence to venture out into the surf. We are happy to announce that among the year 7 cohort we had some students who were able to stand up all the way to the shore. Well done!
Mr Unmack and Mr Bamford's Great Beach Games were a great success. Students participated in a variety of activities which involved tennis ball catapult, treasure hunt for letters to create an unknown word and a "hole in my bucket" activity along with several other fun challenges.
All students had a great time, with Ms Gillet, Ms Malloy, Mr Curnick and Ms Janetzki in charge of food and beverage over both days. The snags were cooked to perfection and the soft drink cans were nice and cold.
Thanks to Mr Klingberg, Mr Amer, Mr Bamford, Mr Goward, Mr Colbert Mrs Honeywell, Ms Wray, Mr Currie, Ms Allinson, Mr Curnick, Ms Gillet, Ms Malloy, Ms Janetzki, Joe, and Daryl.
Ms Hunt
Leading Teacher of the Junior School
Group

Excursion

Date

Cost

Consent & Payment

Year 12 VCAL

Melbourne Street Art

Tue 16 March

$15.00

Consent and Payment

DUE NOW

Koorie students

Narana Cultural Centre

Thu 18 March

FREE

Consent DUE NOW

Year 9s

ACMI, Melbourne
Australian Centre for the Moving Image

Fri 12 March

FREE

Consent DUE NOW

94GROW

3D Modelling
Geelong Tech School

Mon 22 &
Tue 23 March

FREE

Consent DUE NOW

92GROW

3D Modelling
Geelong Tech School

Mon 29 &
Tue 30 March

FREE

Consent DUE NOW

91GROW

3D Modelling
Geelong Tech School

Wed 24 &
Thu 25 March

FREE

Consent DUE NOW

93GROW

3D Modelling
Geelong Tech School

Mon 31 March &
Tue 1 April

FREE

Consent DUE NOW
Alumni & Careers Q&A
By Ms Jennifer Chiu
Alumni & Careers Q&A
By Ms Jennifer Chiu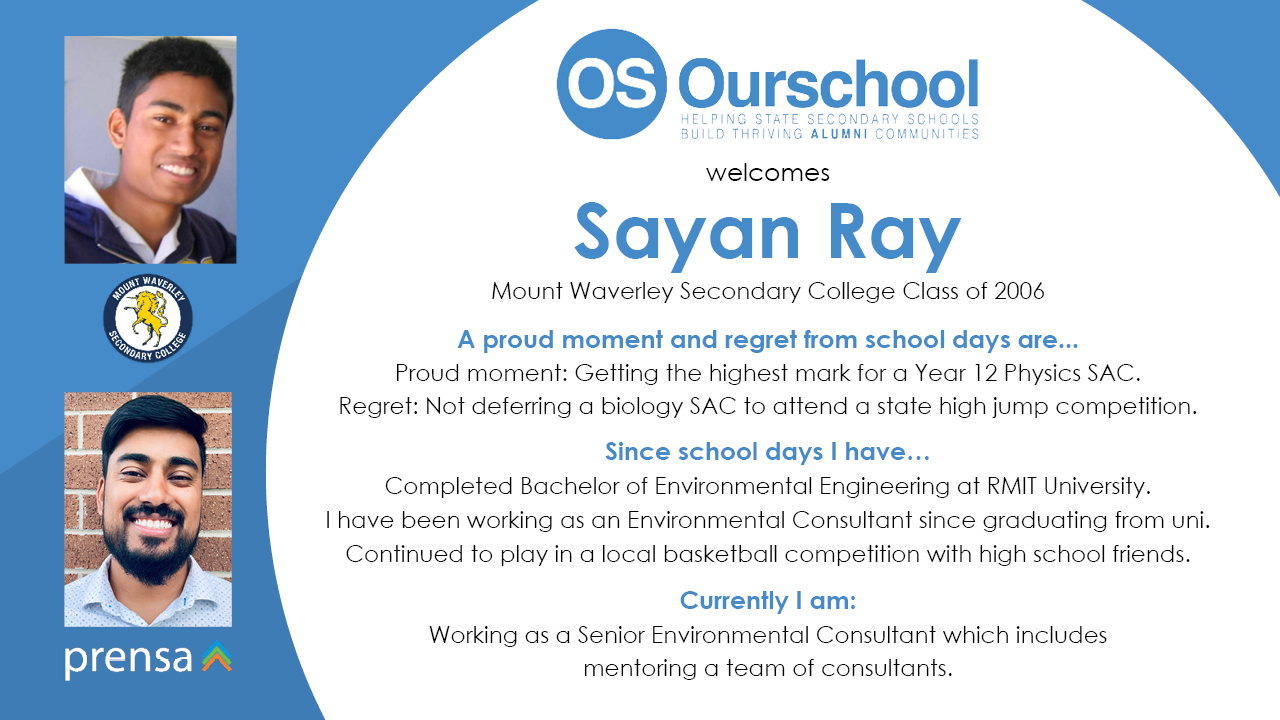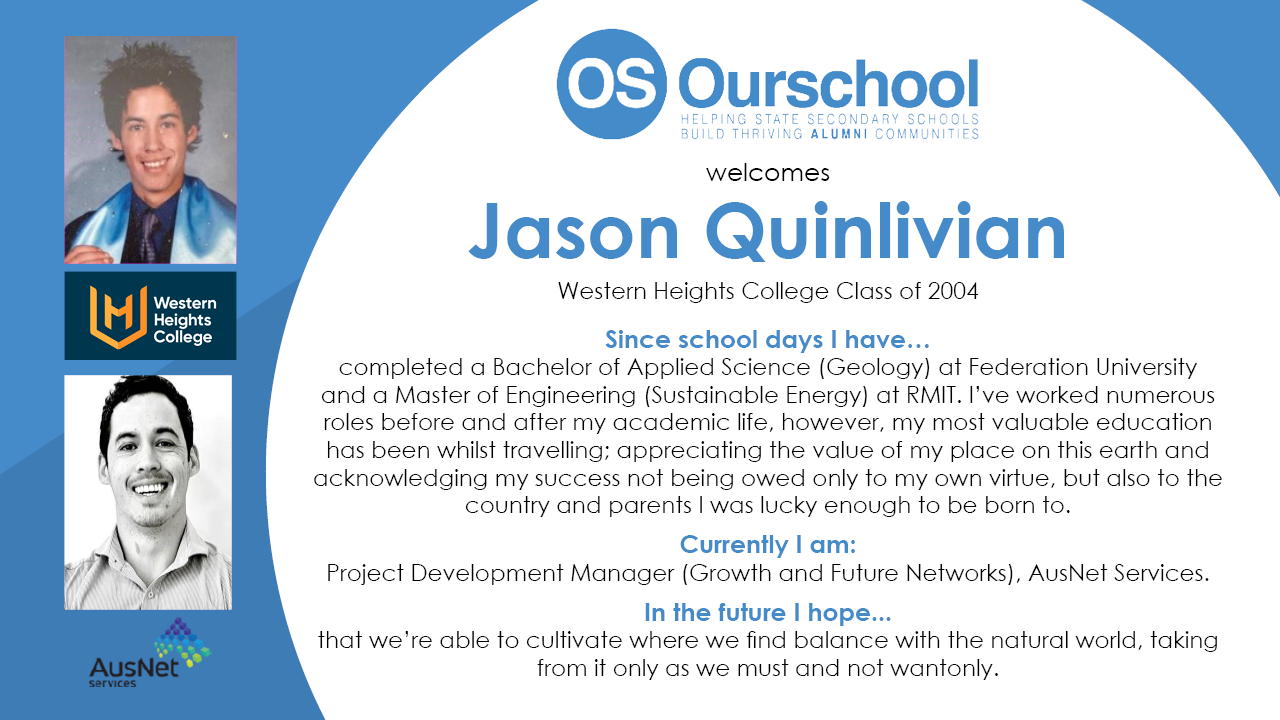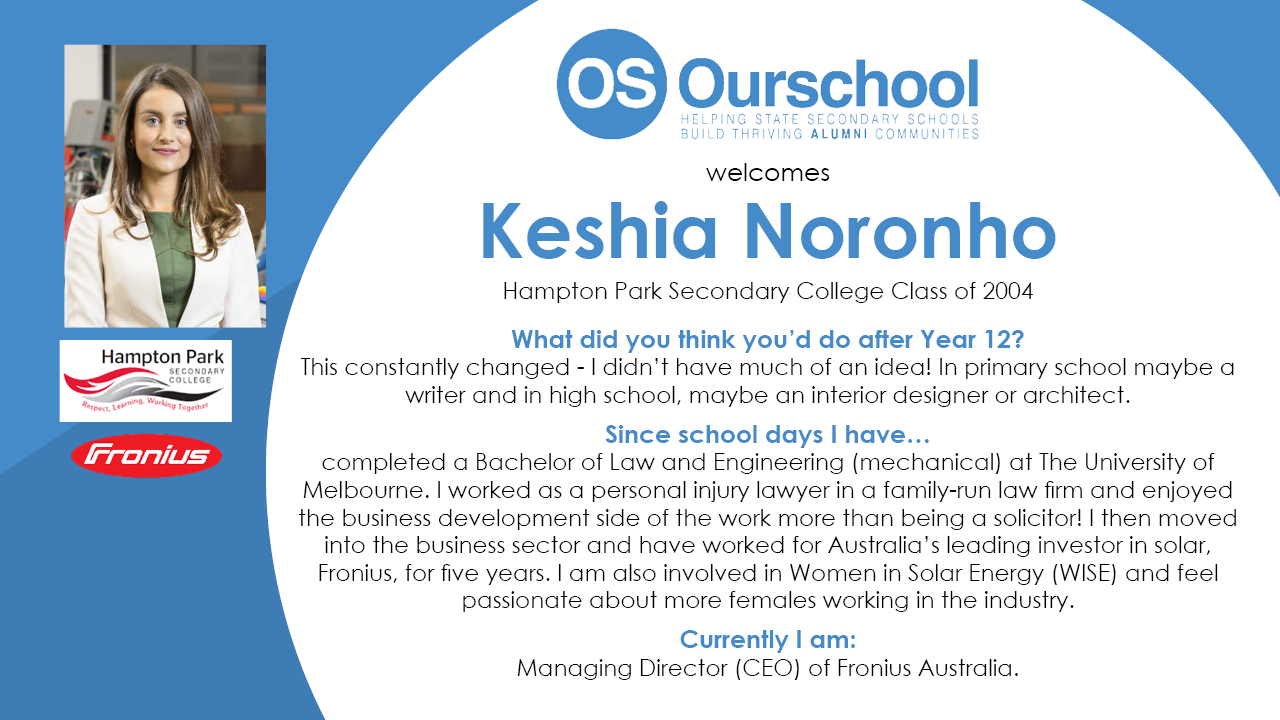 Careers Q&A
Renewable energy, environment and recycling industries
Students curious about careers in the renewable energy, environmental and recycling industries are invited to watch a live-stream Q&A on Wednesday 17 March.
The Ourschool Industry Insights live-stream Q&A will feature public high school alumni who work in these growing and ever-evolving industries.
You'll hear from a project development manager at AusNet, the CEO of Fronius Australia, a senior environmental consultant, and the Carbon Market Institute's climate change director. All of them are graduates of state schools in the Ourschool alumni network.
The speakers will talk about their post-school pathways and share valuable insights into their line of work.
Students will also be able to ask the speakers questions through the live-stream's chat function.
WHEN: Wednesday 17 March, 4.30pm-5.30pm
WHERE: You can log into the live-stream from home
WHO: This session is aimed at Year 9-12 students who are interested in climate change, renewable energy, the environment, recycling, science and engineering. Parents are also welcome.
RSVP: To receive the live-stream link and password, please opt in to the event via Compass or see the office for assistance.
Ourschool is a not-for-profit organisation that's helping Newcomb Secondary College establish its alumni program for the benefit of students and the broader school community.
For more information about the Industry Insights event, see the attached poster and speaker bios or contact Alumni Program Coordinator Jennifer Chiu at alumni@newcombsc.vic.edu.au
NSC Student Competes in Regional Golf
NSC Student Competes in Regional Golf
Noah Schammer (72) competed in the School Sport Victoria Western Metro Region Secondary Golf on Friday 5th March at Clifton Springs.
Noah came 2nd in the year 7-9 age group.
He will find out in a few weeks if he has made the cut for the State Finals.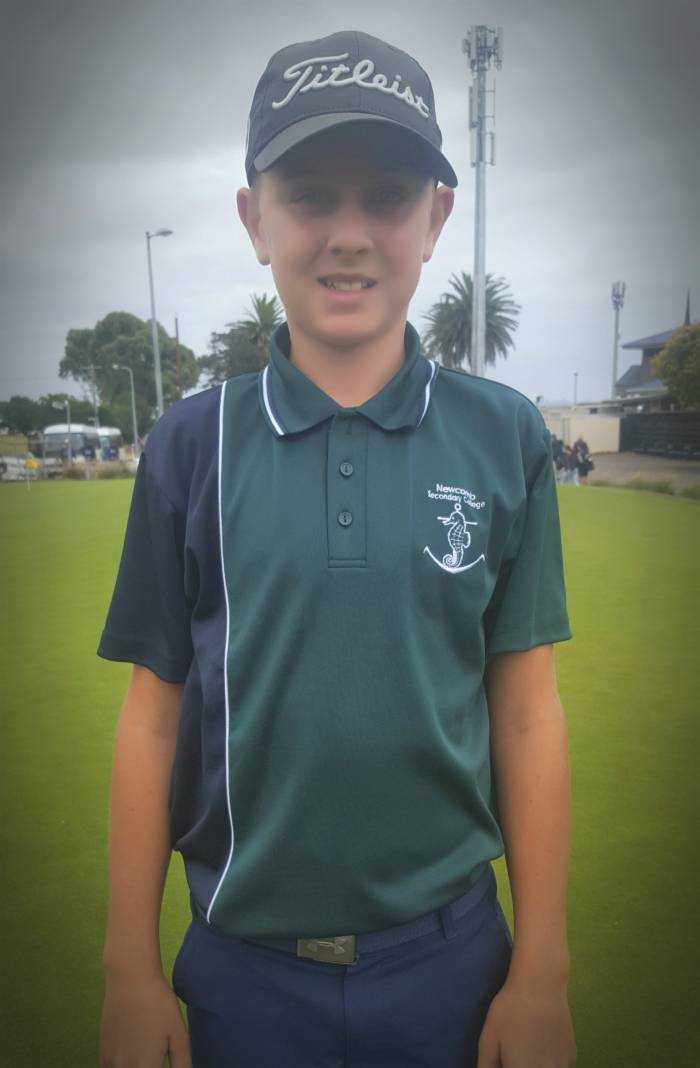 Congratulations for a great effort Noah!


Faciliatated playgroup Me Dad and Grandad
Parenting webinar April 2021 A4 poster
429 SQN A4 RECRUITING POSTER 2021


The eSafety Commissioner website has some great information and resources for young people and parents regarding online safety. They are currently running a free webinar entitled 'eSafety's parent guide to cyberbullying and online drama'. Please see the following link to register:
Webinars for parents and carers | eSafety Commissioner

If you've not yet listened to Raising Learners - a new podcast from raisingchildren.net.au – we recommend giving it a go! With guests including child health experts, school principals, and the e-Safety Commissioner, the series provides parents with practical advice, tips and ideas for supporting their children's health, wellbeing and engagement at school, and at home. The podcast was developed in partnership with the Victorian Government Department of Education. Listen and subscribe here: https://raisingchildren.net.au/podcasts
Social media:
The #raisinglearners podcast answers important questions about how parents and carers can support learning – from working with schools, to online safety at home. Hosted by raisingchildren.net.au @RCN_AUS with many expert guests, listen at https://raisingchildren.net.au/podcasts