Leadership​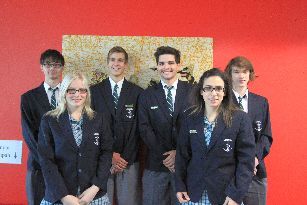 Each year a Student Leadership Team is selected to represent our students.
The main leadership team is chosen from our Year 12 students, with House Leaders chosen from the Year 11 level.
We also have a Student Representative Council (SRC) that has students from all year levels to represent the interests of all students.
Student Leaders attend School Council, are representatives of the school both in and out or the school grounds and are heavily involved in school assemblies and visits from our friends from our sister-schools.
SRC is involved in running student activities such as Dance Club, fundraising for the school and for charities, casual clothes days and many other activities. They are also the representatives of the students in discussions about changes to the school that directly involve the students